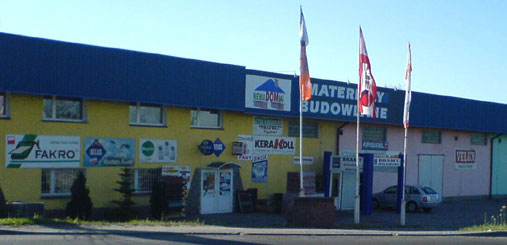 Niewiadomski Company has established in 2002. Through big contribution, investments, consistent cooperation with contractors was made firm company.
Area of ours activity is both Poland and all coutries of Europian Union. Our customers are first of all individual persons who we can help and advice them in building and renovating houses.
Our customers are also construction and plumbered companies. We guarantee high quality of goods and professional level of service. Our Company has well-educated staff, what cause increase of glad clients. Computerised system of handling enable quick reaction on needs of market.
Development of our Company we are going to accomplish through increase trading offer, better service and more efficient logistics. We take care of our customers, and that is way we offer high quality goods. Our staff have to improve their skills to better advice. Ordered goods must be delivered in possible shortest term.
Headquarter of NIEWIADOMSKI TRADING is Niałek Wielki 83A; 64-200 Wolsztyn, Poland,
tel. +48683472899,
fax +48684104005,
e-mail: biuro@niewiadomski.com.pl,
skype: niemen1980
Orders:
The orders please send by e-mail or fax. We confirm every order in 24 hour. Every time we quote the goods and submit the cost of transport.
Our Values
We're Honest
We will be straight talking with our customers and will let them know what is happening. When things don't go right, we will be upfront and will do our best to put it right.
We're Creative
We will do our best to find the right solution for all our customers and will go the extra mile to ensure complete satisfaction.
We're Responsive
We will deal promptly with all contacts and remain committed to being the nations's favourite for construction, plumbing and heating supplies.
We're Respectful
We will treat our customers with the utmost respect and expect the same in return.
The Baunation Way
We care about our customers. Your business is important to us and we will always go that extra mile to make sure you find shopping with us a positive experience.
We have invested a lot of time and effort into creating a streamlined, user friendly online shopping experience. However we know that purchasing construction and plumbing supplies online isn't always an easy task and that you might prefer to speak to an advisor. The BauNation team is only too happy to assist.
Stocking over 10,000 products from the industry's leading names such as Grundfos, Wilo, Honeywell, Kassel, SaniFlo, Cembrit, Sirmex, Systemair, customers can always find what they need to get the job done. Aproximately, We are deliver the goods during four working days. Goods can be delivered direct to site, making it ideal for bigger orders or heavier items.
In each branch Baunation staff, who are specialists in their field, have the expert knowledge to advise all customers on their construction, heating and plumbing requirements and are always on hand to recommend any essential products that customers might need for fitting or maintenance.
In addition, there is a team of specialists working behind the scenes who liaise with the industry's major suppliers to ensure the latest and most innovative products are available at competitive prices in branch. This ensures that commercial construction companies, plumbers and installers undertaking contract, maintenance, installation and emergency cover work will always have access to the best possible range of products and technical advice available.
First of all, We are  care about:
Competitive Pricing
We regularly check the prices of the construction and plumbing goods, to offer you the most competitive deals on construction, plumbing and heating supplies online.
Express Delivery
Secure Payments
Contact Centre
The Baunation team is here to take your call anytime between Mon to Fri 8:00-16:00.